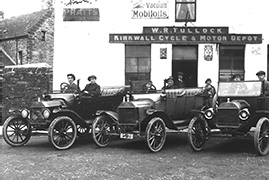 We are a 5th generation family company steeped in motoring history. Founded in 1901, we are now well into our second century in business. Our founder, William R. Tullock, left his home on the island of Westray and emigrated to the USA in 1885. After serving a 5 year apprenticeship as a marine engineer on Lake Michigan, he 'came ashore' and worked for the next 10 years as an engineer for the Horlicks Malted Food Company. During his time in the USA he met Henry Ford, and from that first meeting started our company's loyalty to the 'Ford Brand'.
WR Tullock returned to Orkney in 1901. Establishing a bicycle shop in Kirkwall, he progressed on to cars in 1904 - owning the first locally registered car in March of that year.
WR Tullock was appointed Ford Main Dealer for Orkney on 23rd August 1912 (the same year that 'Titanic' was lost). We are the oldest Ford Main Dealer in Scotland.
As sole Orkney Agents for Avis, Europcar and Ford Rental we are able to offer many of the benefits associated in renting from these international companies. We can supply cars from our rental office located in the new terminal building at Kirkwall Airport and also from our Kirkwall town centre office, located just in the shadows of the world famous St Magnus Cathedral.