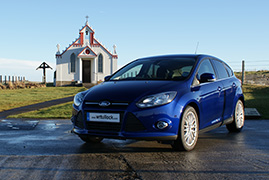 Days

Small 5 Door

Small 5 Door Automatic

Medium 5 Door

Medium 5 Door Automatic

Large 5 Door

Large Estate

Large 7 Seat MPV

1

£45

£50

£53

£58

£60

£65

£70

2

£90

£100

£106

£116

£120

£130

£140

3

£123

£138

£144

£159

£162

£177

£195

4

£164

£184

£192

£212

£216

£236

£260

5

£190

£215

£220

£245

£250

£265

£300

6

£228

£258

£264

£294

£300

£318

£360

7

£240

£275

£280

£315

£325

£335

£400

Additional
Days

£25

£27

£27

£29

£30

£32

£33
| | |
| --- | --- |
| Vehicle Size | Vehicle Make & Model |
| Small 5 Door | Ford Fiesta or Similar |
| Small 5 Door Automatic | Ford Fiesta |
| Medium 5 Door | Ford Focus or Similar |
| Medium 5 Door Automatic | Ford Focus |
| Large 5 Door | Ford Mondeo |
| Large 5 Door Estate | Ford Mondeo Estate |
| Large 7 Seat MPV | Ford Galaxy |
Terms & Conditions
Drivers must be over 21 and under 76* years of age and have held a full licence for more than 1 year.
Insurance excess of £1,000* applies in the event of any damage to the vehicle unless Collision Damage Waiver (CDW) is purchased at the commencement of the hire, whereby the excess is reduced to the non-waivable £250.
Please note CDW does not cover the cost of Parking Fines,
Punctures/Tyre Damage and replacement of lost keys which are the responsibility of the hirer.
No mileage charges whilst in Orkney. Cars are supplied with a full tank of fuel. The hirer is responsible for refilling the tank when returning the car at the end of the hire.
* Drivers over the age of 76 may be accepted at the discretion of our insurance Company.